On Location

Corporate Functions

Spa/Pamper Parties

& Special Events

TrioSpa

Gift Baskets

& Certificates

JOIN OUR

MAILING LIST

= = = = = = = = = = = = 

...and receive...

 COUPON CARD



Featured Massage Therapists &

Estheticians @ Trio Wellness



TrioSpa Interview on KLIV 1590

Trio Wellness has over 50 Massage Therapists & Estheticians to serve you In-Studio, In-Home or for Corporate Functions and Special Events throughout the entire North/South Bay Area. 

We are proud to feature our staff here who are doing wonderful work with our valued clients. 

To explore ALL of our Client Testimonials, please visit us on our Yelp Link above!


My goal is to make clients feel relaxed and rejuvenated and to help people maintain the best quality of life. My wish is for everyone to have abundance of Love, Joy and Light in their lives. I look forward to meeting you on this journey and I wish you infinite blessings on your path to wellness.

Bina Patel - CAMTC, RM

Massage Therapist, Reflexologist & Reiki Master

"I had an Ayurveda Massage with Bina and it was wonderful! She was available the same day that I called at a convenient after work time. I had been in crazy pain for 2 days and couldn't sit or lay down comfortably. Bina was very considerate with my mild apprehension since I had never had a massage before. I was very pleased and plan on going back for regular massages. For several days after I could tell my body was releasing toxins and I am very grateful for that."  - Joanne J

I believe health and wellness are attainable to all and it is a choice to nurture those aspect in our lives. I have come to understand and cherish the deep connection of mind, body and soul and the balance required to maintain it. My wish is through my focused and dedicated body and energy work, I can assist others to deepen their own connection while providing pain/stress relief and complete relaxation, so they may thrive with an abundance of well being.

Abigail Kastner - CAMTC, RM

Massage Therapist, Reiki Master, AromaTherapy

​"Abigail does a great job with her massage sessions. She's very intuitive and moves to troublesome spots without being told. I have been very lucky to experience many different modalities throughout our sessions together. She is really wonderful to work with. I especially enjoy our sessions when Reiki is applied. The healing state stays upon me for a few days. I highly recommend Abigail to family and friends often."  - Heather S.

Juanita Vargas - CAMTC & LE

Massage Therapist, Esthetician, Reiki Master

Angel Card Readings

I have learned that we're all in need of a certain "balance" in our bodies and the goal is to find the right constitution to achieve a proper balance. Whether it's an energy flow or muscle tension, once this balance is achieved the body is found to be whole mentally and physically. I am now doing Intuitive Chakra and Angel Card Readings to round out my practice. This has truly been a journey of giving and receiving and I couldn't imagine doing anything else.

"The people here are super friendly. I had Juanita for a massage and facial. She did a fantastic job. She was super friendly and personal. I have a lot of shoulder and back pain and now it's little to none! Highly recommend this place! Everything was great and Juanita was excellent! Definitely will come back very soon!"    - Ashley J




"Meghan and the overall experience was just fantastic. Meghan was truly wonderful and concerned I was feeling okay with her pressure. She was pleasant and professional. I was provided excellent directions, the directions are important but it's easy to miss the building and address at night. 

Thanks Meghan and TrioSpa for a great experience."    - Mary C

I am focused and dedicated to client reeducation and rehabilitation. It's important my clients fully understand what I am doing, why I am doing it and how they can continue my work and efforts on their own so I make a point to invoice my clients in the process in which I work. Alongside education and inclusion, I like to provide my clients with even more assistance by suggesting different preventative health strategies such as yoga postures and stretches, as well as breathing exercises.

Meghan Robinson - CAMTC, ANMT

Massage Therapist, Advanced Neuromuscular Therapist

"Brittany was fantastic and identified the origins of the pain points so quickly. I think that was the most effective massage session I've ever had! I will definitely request her in the future."  - Clare

Brittany Roberts - CAMTC, Certified LomiLomi Practioner

CA Certified Massage Therapist

During my 7 month stay on the Big Island of Hawaii, I fell in love with the energy of the island, the steady rhythm of the ocean, the greenery of the land, and the softness of the breezes. However, the connections between people, between my Kalani Ohana, my Hawaiian family, were what taught me to feel more than with just my hands, but with my heart and my spirit as well.  

These experiences of people, places, sights, and smells are what influence my massage, by being part of the spirit of Hawaii I hold within me. These experiences have allowed me to be present in the moment, to reach out to other people's energies and meet them where they are. It has heightened my intuition and allowed me to continue to hone my skills as a massage therapist; learning through everybody I touch.

Sara Rosas - CA Licensed Esthetician

Facials, Waxing, Eye Lash Extensions & Fills

Sara's passion for skin care comes from having skin problems herself. Her greatest reward is to see her clients satisfied with their results. It is her goal to help her clients achieve their skin care goals. She is specialized in glycolic, lactic and TCA peels, mechanical lymphatic drainage, full body waxing, Eyelash Extensions and Airbrush Makeup.  She has extensive product and ingredient knowledge for facial conditions including acneic, aging, hyper-pigmentation and rosacea skin types. She completed her professional training as a Master Esthetician at Marinello School of Beauty in Santa Clara, CA. and is Licensed by CA State Board.

"Sara gave me a one hour facial today and she was outstanding! My first time at TrioSpa and it was a spiritual experience being in her care.. Miss Sara is thorough and patient! I will be back." :)     - Lisa R

Meet Laural!  Her journey as a healer began with the study of meditation and yoga at the Meditation Center of Alabama, where she learned how to promote healing within herself through focused breathing techniques and body movements. She continued to explore her passion for healing at Alabama Healing Arts School where she completed Reiki 1 and 2. Laural furthered her career as a therapist by training at National Holistic Institute, where she was certified as a Massage Therapist and then continued on to complete her Reiki Masters. These vital therapeutic practices inspire her daily to incorporate mindful healing into every session and focus on the benefits of a harmonious relationship between the mind, body and spirt.

"Laural is a wonderful massage therapist who truly cares about the needs of her clients. She is sweet and very accommodating. Her kind, welcoming demeanor always puts me at ease. I appreciate her attention to detail especially when I convey my current aches and pains prior to a massage. With an intuitive touch and detailed knowledge of her profession, Laural offers an incredibly relaxing experience. I totally recommend her for a fantastic massage. She is awesome!!"  - Ritzy C.

Laural Ehresmann - CAMTC

Massage Therapist, Reiki Master & Yoga Instructor

As a Certified Innerwise® Coach, Vania combines energetic healing with day-to-day practical supports, such as nutrition, to offer a holistic approach to healing. Vania aims to identify the root issue causing discomfort, whether physical, mental, emotional or spiritual, to bring well-being into her clients' lives. Her journey as a healer began within her own family. Years ago, the discomfort and anxiety she often experienced magnified immensely. Simultaneously, her son was diagnosed with Autism. As she began researching how to help our son heal physically, she incorporated nutrition, supplements, homeopathy, essential oils and prayer into her family's lives. As a result, she experienced her own physical healing from Hypothyroid.​

Vania Frank

Certified Innerwise® Coach

"Vania is one of the most deeply empathetic people I've ever met. She was able to help me during a difficult time in my life. I felt very comfortable opening up to her because she provides a space of openness and non-judgment during her sessions. I felt like I was talking to someone who really cared about me; not someone who was just putting on some kind of spiritual front or therapeutic act. I believe she has a connection to the spiritual realm that the majority of humans have lost in our society. She showed me how to quiet my mind and use my intuition to find truth in difficult circumstances. Vania has a presence about her that radiates love and understanding."  - Russell, Nursing Student & Professional Jazz Musician

Jules combines modalities to create a deeply effective massage experience, bringing the client to a deep relaxing space where sore muscles and tightness in the body can relax, release, and unwind. Her intention is to help each client find balance and harmony within their body and mind and soul. Jules considers massage to be a vital component in maintaining and promoting health. Working with the muscle tissue to break up adhesion's, unwinding knots and calm the nervous system can only benefit one's health and wellbeing. Jules is skilled in Swedish, Deep Tissue and Sports Massage. She specializes in Pre and Postnatal Massage and is a Postpartum Doula. She enjoys hiking, traveling, going to the beach and spending time with family and friends.

Jules Dalla - CAMTC, Doula, PreNatal Massage

CA Certified Massage Therapist & Health Educator

"Nicole and Jules were wonderful. My husband and I got a Couples Massage; a PreNatal Massage and a regular one.  The massages were so good we both fell asleep.  We will definitely be coming back!"  - Jessica H

Jake Medvidovich - CAMTC / MBLEX

Deep Tissue/Sports & Myofacial Therapy

Jakes' former experience as an athlete, certified personal trainer and his own journey with health and wellness gives him a unique perspective. A current National Holistic Institute student, his focus is on restoring quality of life through therapeutic touch and client education. He believes that by creating an understanding and connection with our bodies we actually unlock our full potential as human beings. When Jake isn't with clients he spends time with his son, hiking and exploring the world.

"Jake has an acute awareness that I find rare when compared to other massage therapists I have worked with. He is attentive and has intent with every action that he does. Jake can work in a range of modalities, and I have enjoyed each session with him. From energy work to Cranio-Sacral, Jake has helped improve my well-being every time I get on his table. Thoroughly cannot wait to work with such a beautiful soul again."    - Michelle M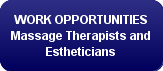 Andrea Aguilar, CAMTC, ANMT, Cupping & PreNatal Massage

CA Massage Therapist & Health Educator

I have worked as a massage therapist for nine years. Graduated from the National Holistic Institute (NHI) in 2013. My specialties are Advanced Neuromuscular Therapy (ANMT), Deep Tissue, Cupping Techniques, Chair Massage and Pre/Post-Natal Massage. I have been fortunate to work with TrioSpa/Trio Wellness Management, LLC  in-studio and mobile for Corporate & Special Events doing Chair Massage for over 8 years. I am happy that people are taking the time for their Body Wellness and that I am able to be part of that experience and success.

"I've seen Andrea twice and I can't wait to go back. She is awesome, so don't try to steal her from me!  TrioSpa is small, but clean and quiet and I never feel rushed through the process. Thank you TrioSpa!!!"  - Stephanie C